Issued: 0900 Wednesday 8th December 2021
Duty forecaster: Alexi Venerus
Staying mixed though milder on some days

Changeable weather through the next number of days though milder for many from the weekend, before southern and eastern areas tend to become more settled as higher pressure ridges in through next week. Staying breezy and wet though further north and west.

For the weather for the next few days click here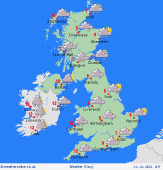 Saturday 11/12/21
A frosty start in Scotland and parts of northern England though dry for most. Cloud will soon increase where it hasn't already in advance of rain pushing in from the west as the day progresses. Winds will also start to strengthen. A cool day for most at 4 to 6C though far western areas seeing double figures.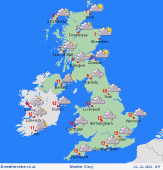 Sunday 12/12/21
Sunday brings low cloud and drizzle through many areas of Wales and southwest England as well as hill and coastal fog. More persistent rain in Ireland, Northern Ireland as well as northern Scotland. Tending to be drier and rather cloudy in central and eastern areas. Highs at 4C in northern Scotland, 12 or 13C in central and southern England.

Monday 13/12/21
Front moving slowly east through the country on Monday bringing an area of showery rain. Eastern areas are likely to be drier while drier and brighter weather comes about across Ireland, Northern Ireland and Scotland, though always a risk of continued showery rain in northern and western Scotland. Highs at 7 to 11C.

Tuesday 14/12/21
A moist southwesterly flow across the UK and Ireland. Cloud and a risk of some drizzle in the west. Gales and rain affecting northern and western Scotland as well as the north and west of Ireland. Highs at 9 to 13C.

Wednesday 15/12/21
A brighter day across England and Wales though rain still affecting northern and western parts of Scotland as well as Ireland where it continues to be breezy. Highs at 7 to 14C.

Thursday 16/12/21
Another dry day with sunny spells across England, Wales and much of Ireland. More rain affecting much of Scotland, heavy and at times persistent in the west. Lighter rain and drizzle along western Irish coasts and through parts of Northern Ireland. Highs at 7 to 13C.