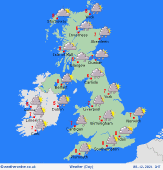 Thursday
Low pressure, and what was Storm Barra, remains to the east of the UK on Thursday as a significantly weaker feature. There will be cloud and some outbreaks of rain perhaps affecting easternmost counties first thing. A weak ridge of high pressure brings some drier weather to much of the rest of England as well as Scotland. However, a front will push rain across Ireland and Northern Ireland before moving into far western areas of Scotland and England as well as across Wales later on. Highs at 4 to 8C.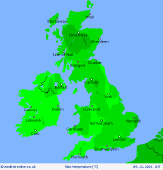 Thursday Night
Rain continues to push east through the evening and overnight, clearing from the west with drier conditions and clear spells developing, although showers are likely to hit westernmost coasts of Scotland and Ireland. Outbreaks of rain still expected to affect far southeastern parts of England by dawnbreak. Frost developing in places in Scotland and northern England. Lows at -1 to 5C.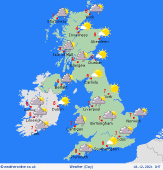 Friday
After a frosty start in the north it is expected to be a cool but mainly dry and fine day for many with lengthy spells of sunshine, although showers will affect western areas as well as coasts and hills here. Highs at 4 to 7C.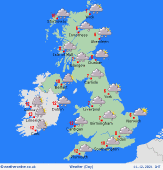 Saturday
A frosty start in Scotland and parts of northern England once again though dry for most. Cloud will soon increase where it hasn't already in advance of rain pushing in from the west as the day progresses. Winds will also start to strengthen. A cool day for most at 4 to 6C though far western areas seeing double figures.